2019 års värd för regattamiddagen lördag den 26 maj
2019 års värd för GSYS International Team Race Regatta 24-27 maj
Stockholm International Team race regatta 2019 - 23 - 26 may
Newport Harbor Yacht Club won this year's Stockholm International Team Race Regatta
Stockholm International Team Race Regatta sailed Friday, Saturday and Sunday, May 24-26, at Stockholm Ström. Five teams from some of the leading sailing clubs in the world participated.

Start on Friday morning with information for all officials to get the whole organization in place. Many people and boats are required to arrange a Team Race Regatta. Half past nine it was time for a skipper meeting with information about officer's boats, judge boats and our J / 80 boats and that the sailing area on the first day was Ryssviken. A wonderful sailing area below Skansen, outside Beckholmen and the Navigation Society's harbor.
First day of perfect weather with steady S wind 4.8 m / s in gusts over 9 m / s. The starting area was crowded close to the shore and piers and made the races very spectacular. The day went on very well and we had the first and second round robins which consisted of 20 starts, four starts per team. It was short courses sailed two laps and each flight took about 12 minutes. Winner day 1 was NHYC with 7 wins of 8 closely by RTYC 6 of the eighth
Saturday's team sailing was was performed outside Stadsgården in western winds of 4-7 m / s and fine weather. We had 15 starts on Saturday. It takes a little longer at Stadsgården where we have to take into account the large passenger ships. Winners in Saturday's sailing, which ended on Sunday morning with five sails to finish RR 3 and 4, again became NHYC with an impressive 8 wins out of 8 possible, RTYC had 5 wins out of 8 possible.
Semifinals between NHYC and KSSS as well as RTYC and NYCC started just before 12 on Sunday in mixed weather, but mostly rain and strong gusts up to 12-16 m / s from SW.

We sailed again in Ryssviken. Due to occasional heavy rain and strong winds, sailing became very exciting. Especially at the start, it was narrow with space when two boats guarding the other two boats for the best position and to protect each other so as not to finish last.

The final between NHYC and RTYC settled in three very close and exciting matches where NHYC won with two wins out of three.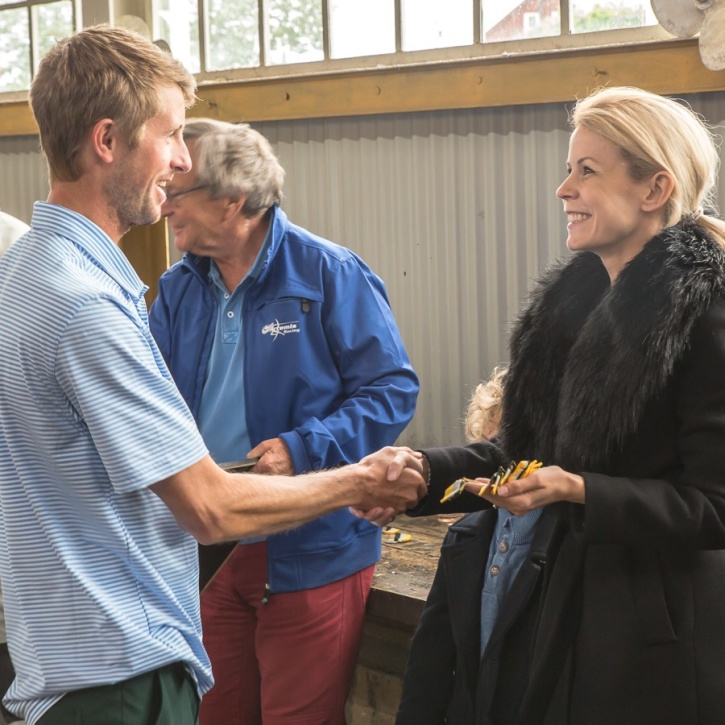 Stockholm's Finance Commissioner Anna König Jerlmyr handed out the prize at the ceremony at the home base GSYS Nya Djurgårdsvarvet.
Results Stockholm International Team Race Regatta 2019
Newport Harbor Yacht Club, NHYC, USA
Royal Thames Yacht Club, RTYC, GBR
Kungliga Svenska Segel Sällskapet, KSSS, SWE
New York Yacht Club, NYYC, USA
Gamla Stans Yacht Sällskap, GSYS, SWE