Royal Thames Yacht Club won the 2018
Stockholm International Team Race Regatta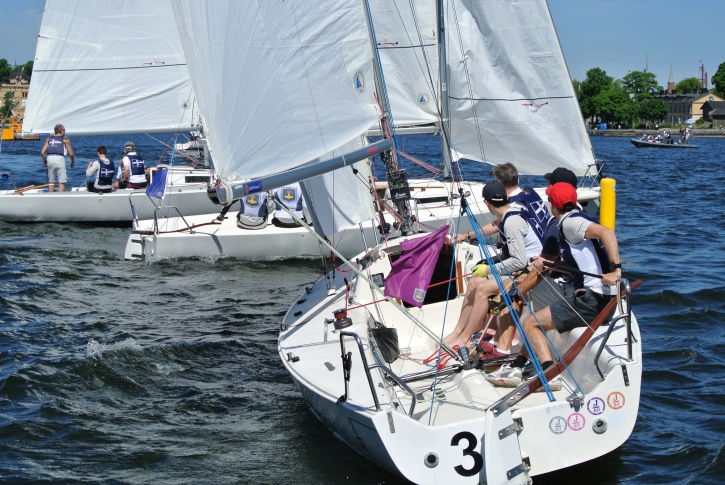 Stockholm International Team Race Regatta was sailed Friday, Saturday and Sunday, 25-27 May, in the middle of central Stockholm between Djurgården and Stadsgården. There were six teams from the leading sailing clubs in the world, eight sailors in each team divided into two boats.
The format of the competition was: all teams met all the other teams teams twice in a "Round Robin series, one on Friday and one on Saturday, a total of 30 races. Then finals, petit final between 3rd and 4th in stage one and the final between 1st and 2nd.
On Friday it was perfect conditions for sailing, 4 m/s steady from east and 18 race could be completed. On Saturday the wind arrived first after 14 o'clock and only 9 races could be completed.
On sunday the wind was back and stronger 6-7 m/s. The last six races in the second round robin was sailed and the the finals.
There were very intense, close and exciting sailing as was followed by a large number of spectators on the quays around the racecourse area and from a record number of boats on Stockholm's Ström in the fantastic summer weather.

The Royal Thames Yacht Club and Royal Swedish Yacht Club won 7 races in stage one, however, RTYC had better points in the meeting between the two teams and was ranked as number one in stage 1.
Results after stage 1
Royal Thames Yacht Club, RTYC, GBR, 7 wins (70%)
Royal Swedish Yacht Club, KSSS, SWE, 7 wins (70%)
Yacht Club Costa Smeralda, YCCS, ITA, 6 wins (60%)
New York Yacht Club, NYYC, USA, 5,5 wins (55%)
Royal Yacht Squadron, RYS, GBR, 3 wins (30%)
Gamla Stans Yacht Club, GSYS, SWE, 1 win (10%)
After the first stage, a Petit Final was first sailed between YCCS and NYYC, where the best of three races wins. The Italians got a penalty of a half win and only had 1.5 wins and therefore a fourth race was required. The Italians won this fourth race and secured the third place in the total.
In the final was between RTYC and KSSS, and it became three incredibly exciting tight races, RTYC won the first, KSSS the second and in the third and final race RTYC won and became the winner of the 2018 Stockholm International Team Race Regatta.
Stockholms deputy mayor Emilia Bjuggren awarded the prices at GSYS home base Nya Djurgårdsvarvet.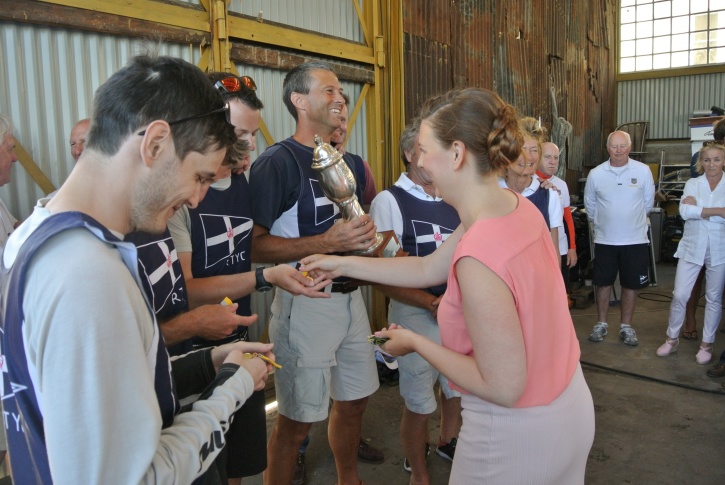 Royal Thames Yacht Club receives the first prize of the deputy mayor Emilia Bjuggren.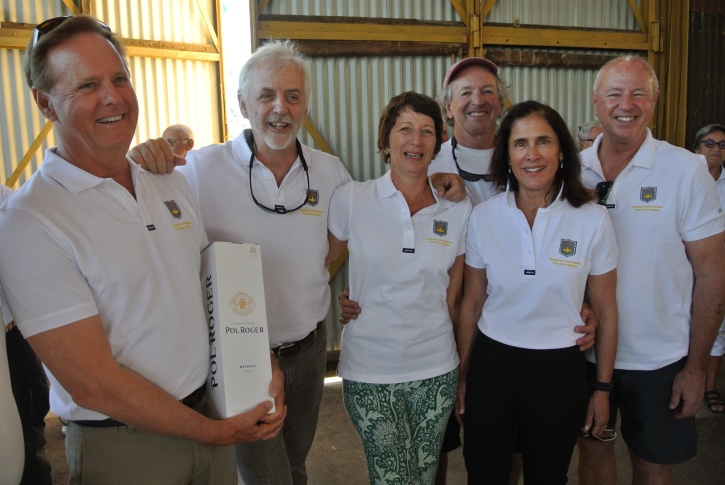 New York Yacht Club at the award ceremony in the special regatta Musto Polo Shirt.

The participants were enthusiastic about sailing in central Stockholm, with perfect conditions both on the water and on land.
The Royal Thames Yacht Club team leader, one of the leading clubs in the world at Team Racing, thought the finals on Sunday were among the best team racing he had ever seen.
GSYS has organized yet another world-class competition.

Final results
Royal Thames Yacht Club, GBR

Royal Swedish Yacht Club, SWE

Yacht Club Costa Smeralda, ITA

New York Yacht Club, USA

Royal Yacht Squadron, GBR

Gamla Stans Yacht Club, SWE.